SFBProcessor.h File Reference
CPU speed setting and control routines via the
Processor
object.
More...
#include "SFBTypes.h"
#include "lpc/clock.h"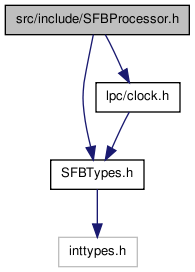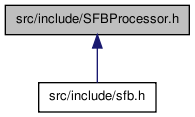 Go to the source code of this file.



Data Structures

class
SFBProcessor
Wrapper class implementing the Processor object for access to CPU speed control. More...

struct
SpeedChangeHandlerBlock



Typedefs

typedef void(*
SpeedChangeHandler )()



Functions

void
registerSpeedChangeHandlerBlock (SpeedChangeHandlerBlock *)



Variables

SFBProcessor
Processor
The premade instance of the SFBProcessor class, used for accessing and controlling the onboard CPU speed (and thus power consumption).

---
Detailed Description
CPU speed setting and control routines via the
Processor
object.
Author:

David H. Ackley.
Date:

(C) 2010 All rights reserved.
Code License:
License Note:

All code samples shown in documentation are placed into the public domain.
Since:

0.9.14